What Will You Do if Your Health Insurance Doesn't Pay for Your Health Care?
Adrienne Creswell MD, JD
How to Buy Health Care

What Will You Do . . . . if your Health Insurance doesn't pay for your Health Care???

Will you. . . . . . . . . . .
. . . .go without care?
. . . go without food?
. . . go bankrupt?


or will you SMILE ???

~ because you have a HEALTH-PACT with your physicians, imaging centers, labs, and allied health care practitioners?
For you to learn the best way possible about this
"New PARADIGM" of securing excellent health care
without going broke, listen in on this show where you will hear:

- A Surgeon
-A Chiropractor
-A Mental Health Professional
- A Health Care consumer (patient)


And patients can and will be calling in!
You can call or write in too!


Listen to this South Jersey group who
know HOW TO BUY HEALTH CARE!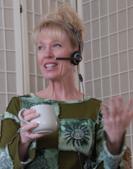 A personal note from Marilee. . . .
In keeping with my intention to help people become empowered in their health care, I am presenting this group to you because that is exactly what they are doing ~~ empowering you and giving you a great option to reduce the cost of your health insurance and to get great care. I'm impressed with this model and I'm even learning about it for myself and our family's health care.
I have no connection to this group professionally or financially, I just want to bring you (and me!) great options for empowered health care ~ the way WE want to be taken care of!
Learn about how you can listen to this show and all other of Marilee's interviews by clicking here.