What Exactly Is an Essential Oil?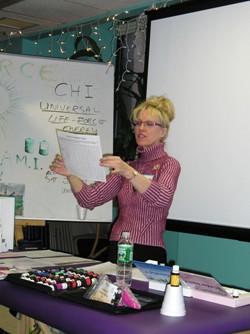 Marilee teaching how to use essential oils for natural health in New York City at the Laura Norman School of Reflexology.
From Marilee "I am passionate about using these "gifts from nature" to help our health and well-being!"
You will be getting snippets of good educational info all month long here at Green Tea with Marilee on the therapeutic use of essential oils.
Although I have been teaching this subject for umpteen years - you know me - I love bringing in the experts! So I am interviewing a wonderful guest expert at the end of the month on this show who you will learn much from - AND you will be able to join me live on this interview! Stay tuned for that info.
Meanwhile, listen here to my very quick "4 minute show" to learn what an essential oil really is and where they come from. . .